Kazakhstan is an undeniable choice for a high quality, ALL-INCLUSIVE ski holiday in Kazakhstan. Whether you are planning a winter break with your partner, family or group of friends, you can choose among the 2 ski resorts in the Almaty Region to enjoy the type of alpine holiday you desire. Aveneer is ready to welcome guests from all over the world to experience a new type of ski holiday, to enjoy the winter in luxury amid the immaculate snow and magnificent scenery of the Trans-Ili Alatau mountains.
Get access to what seems to be endless kilometers of groomed slopes and a vast choice of winter sports is indeed another reason why ski lovers come to Kazakhstan.
 
Shymbulak Ski Resort is the most prominent ski resort of Almaty and Almaty region, located 25 km from in the upper part of the Medeu Valley in the Zaiilisky Alatau mountain range. Shymbulak is popular with both the locals and tourists because of its favorable climate even during the winter, soft powder snow which is great the beginners and long ski seasons; where each season usually runs from November to March each year. Shymbulak's last makeover was in 2011, when Kazakhstan hosted the 7th Asian Winter Games, a multi-sporting event where 26 countries and up to 1000 athletes participated. 
To get to Shymbulak one needs to take the world's third longest gondola ride up to the resort area (4.5kilometres) overlooking the highest skating rink in the world, and Almaty city.
The main attraction in Shymbulak is undoubtedly its slopes, which have been certified by the International Federation of Alpine Skiing (FIS). Tourists are often pleasantly surprised with the variety of slopes Shymbulak has to offer, ranging from beginners to advanced and even heliskiing for the epitome of adrenaline rushers. For the calmer at heart, tourists can find an array of restaurants and cafe's at the foot of the slopes in Shymbulak, from casual coffee joints to cabin chalet restaurants, it's safe to say that there is something for everyone. Two times a week from 7 pm till 11 pm there is night skiing session, which will give you brand new feelings from skiing.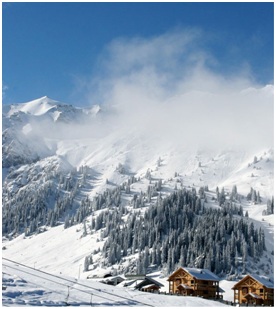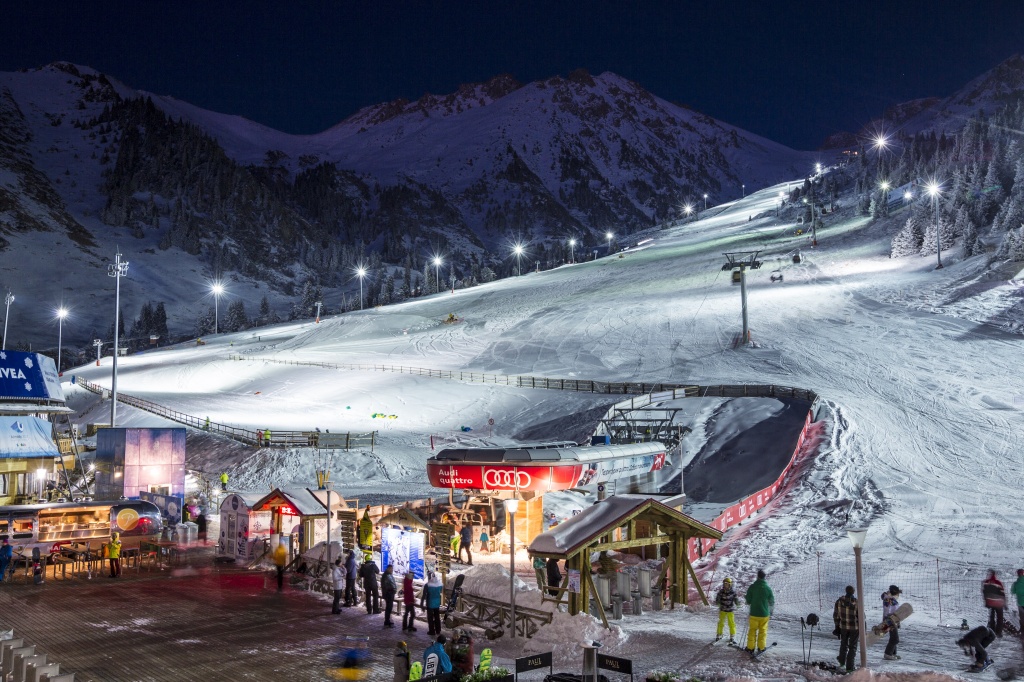 The ski resort Ak-Bulak is an excellent place for active recreation in winter and tourist walks in the summer. Located a little bit far than Shymbulak, it is still one of the most beloved and busiest ski resorts of Kazakhstan. Here you can go skiing and snowboarding on the routes of various categories of complexity, arrange unforgettable skating for the children on the specially equipped slope, enjoy the crystal clear air and the majestic beauty of the mountain peaks. Equipped with the latest technology gondola, rope and rope tows will provide you a comfortable ride to the beginning of slopes. On the territory of the stadium, there is a ski school where experienced instructors will help you make the first steps in skiing and snowboarding. For all guests of the Ak-Bulak, there is a rental shop and ski service. If necessary, guests of AK-Bulak can be provided with qualified medical assistance. Geographical location also contributes to good skiing, as Ak-Bulak is located in picturesque gorge of Trans-Ili Alatau, at altitude from 2600m to 1400m above sea level. The average temperature in winter is -8. Night skiing is also available here, held to days a week it gathers lots of people.