Aveneer DMC would like to introduce you to Oi Qaragai, an upscale resort located in the Almaty region. The resort lies in a picturesque mountain gorge and is only a 40-minute drive from Almaty. The Aveneer team decided to spend a day here, refresh our memories and renew our lungs.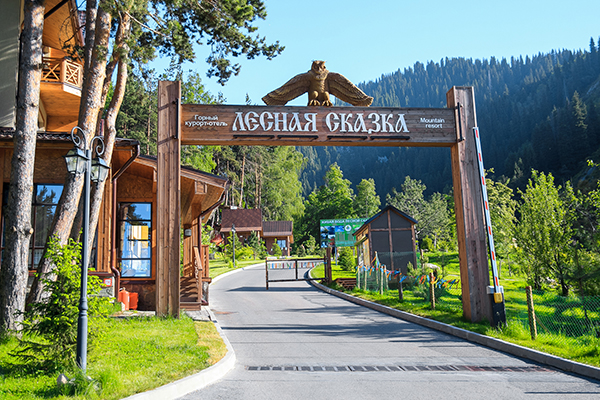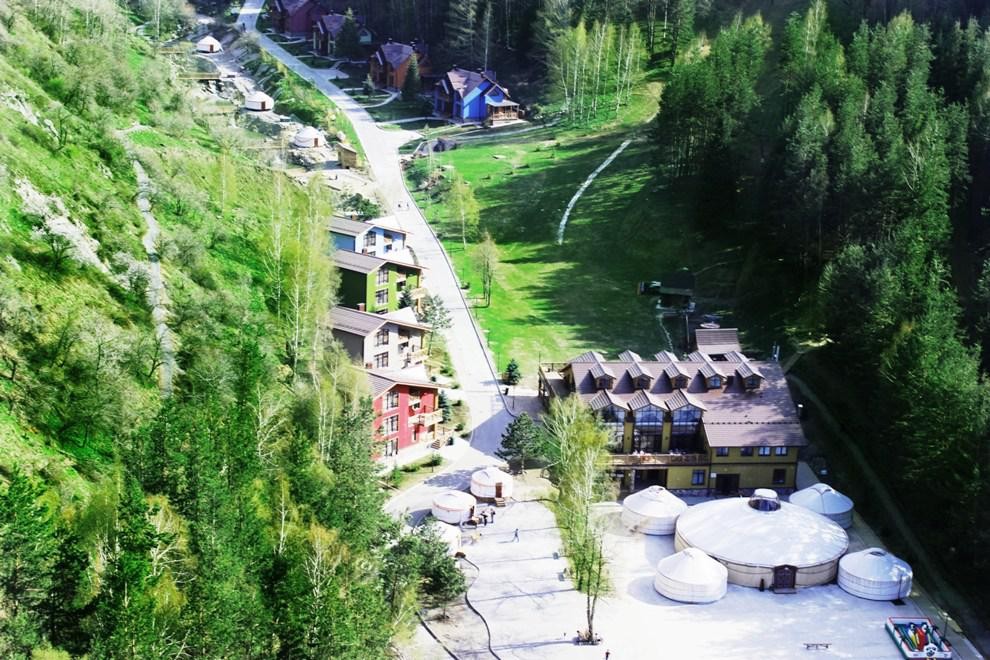 This perhaps is the only resort of this kind in Kazakhstan. Upon arriving at Oi Qaragai mountain resort, one would feel as though you are somewhere in Europe. Perfect cleanliness, tough security, full territory surveillance, rich infrastructure, an abundance of activities for children and adults alike, gastronomic heaven for food lovers and much more. The management of the resort has it all under control, all guests ought to do is to have a joyous time.
After passing the security post, we left the car in the covered parking. Tour guide warmly greeted us and we started with the most economical accommodation option - The "Ak-Tas" Hotel. 18 twin rooms with everything necessary for a cozy stay, some with a nice balcony, big terrace, fireplace lobby and elegant paintings(which you can buy) make the hotel hard to call it a "budget option". "Ak-Tas" is a perfect option for a company of young people, students or couples looking for a short weekend getaway.
Buggys or electric cars are seen all over the territory of Oi Qaragai, transporting guests to and from reception to their rooms or to the restaurant, it's very convenient given the huge territory of the resort and environmentally friendly since the location high in the mountains right in untouched nature.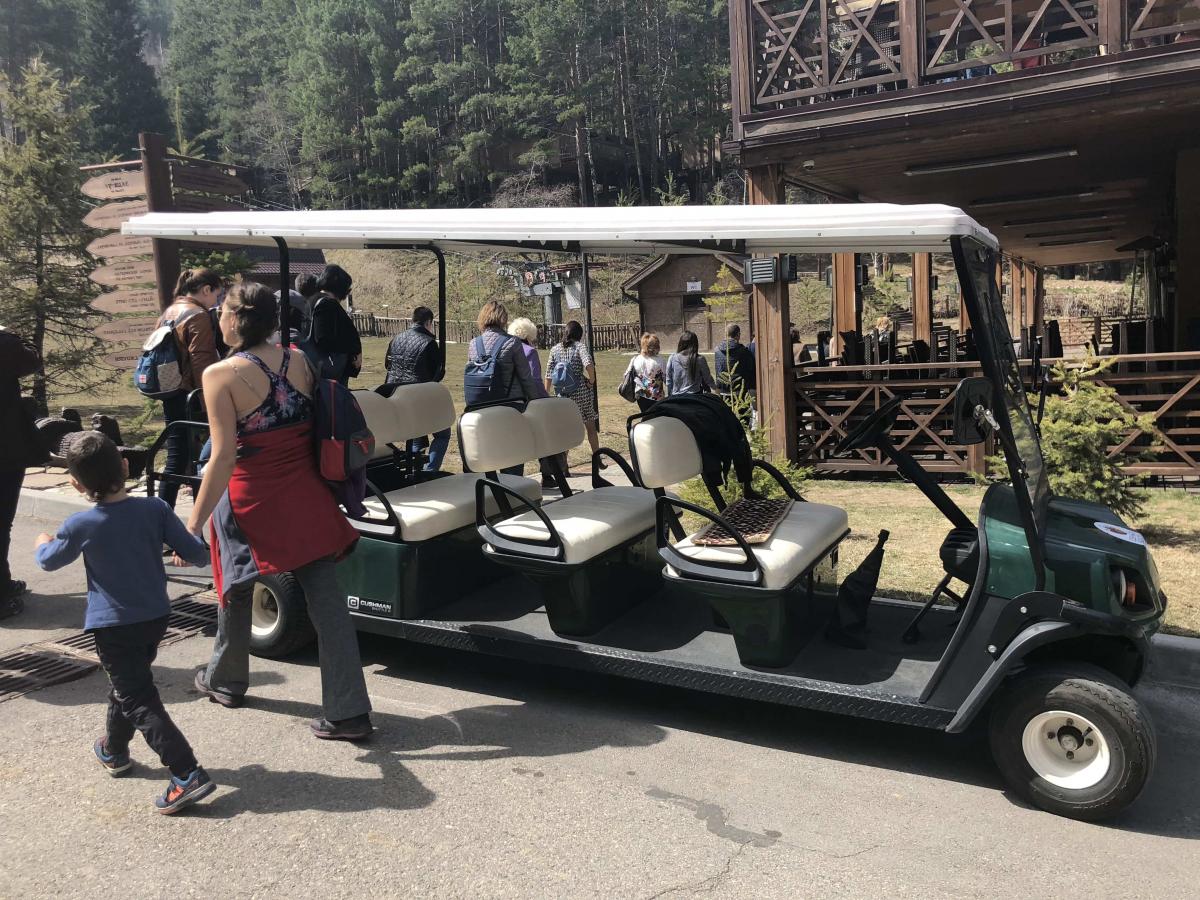 We continued to the mini-square area with an enormous yurt in the middle. Ak Aul is the name of the yurt, which set the Guinness Book of Records as the largest yurt in the World in 2015. It serves as a restaurant and a conference hall and is beautifully decorated both outside and inside: a lot of wood, felt, ornaments, paints, all sorts of ribbons and decorative blankets. Time spent inside was a mere pleasure by the way.

Largest Yurt in the World
The next accommodation option - tree houses! 35 cozy houses located in a pine forest, equipped with a shower, satellite TV, as well as a veranda with wooden tables and chairs left us speechless. Just imagine waking up among all this beauty, in such closeness to the wild nature. Purely magic experience!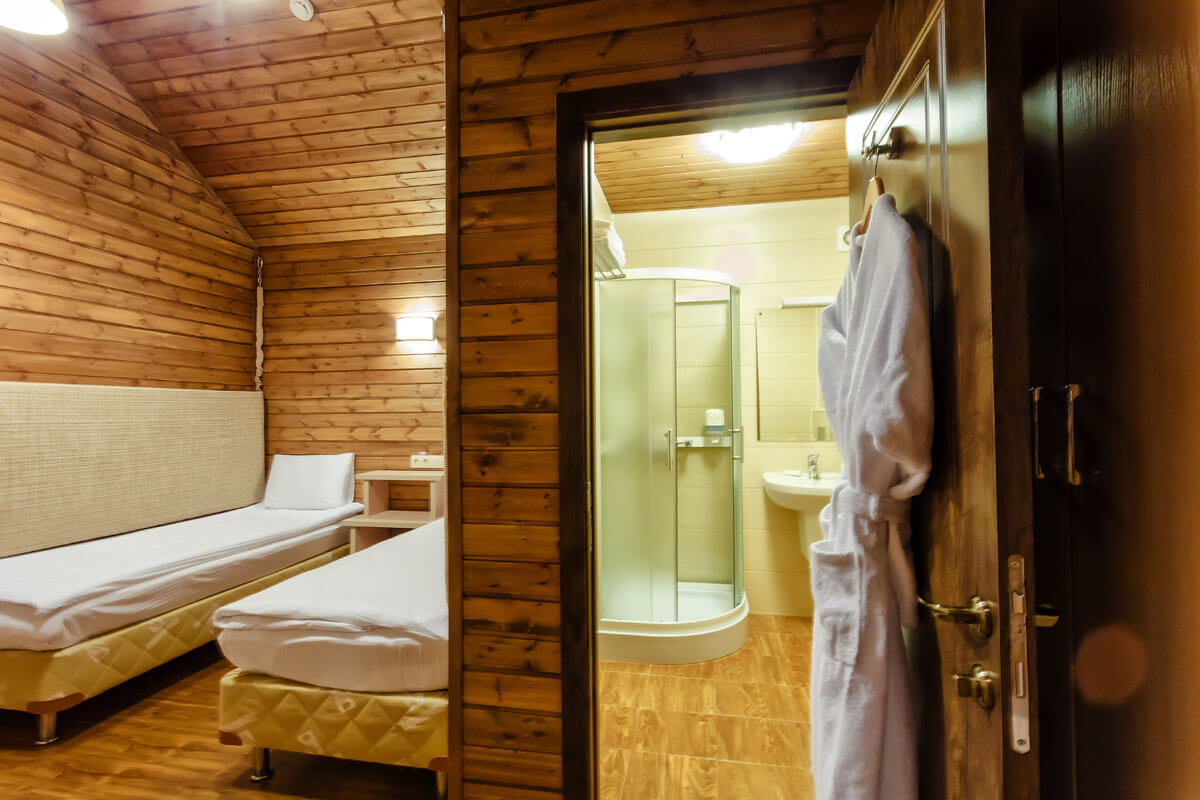 We heard the murmur of a mountain stream and headed towards Ethno SPA Umai. The SPA is made up of yurts, specially equipped for the organization of wellness spa treatments and massages, with the use of local ingredients such as mountain herbs, honey, forest berries, natural oils, healing minerals right on the bank of a river. The Ethno SPA also has an open air Jacuzzi.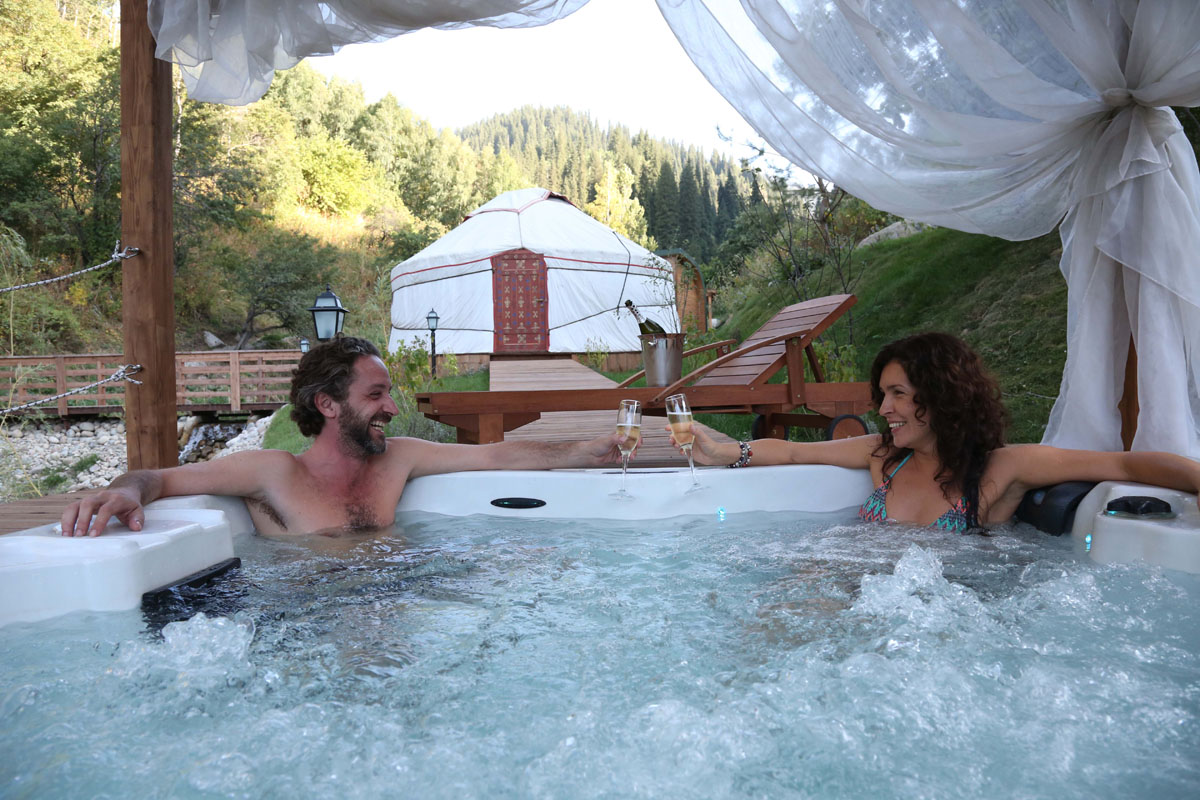 Walking a bit up towards the mountains a whole yurt village appears before our eyes. It is the ethnic-hotel "Orman Auly", exclusive accommodation option of Oi Qaragai. Ethno-hotel "Orman Auly" consists of seven yurts, surrounded by a decorative wooden hedge. The central yurt is a joint zone of rest and communication. Six side yurts are designed to accommodate one person or a couple, with the option of an extra bed for the child. What a unique way to get the feeling of living like a true nomad!
In the upper part of the resort, there is an equestrian center, where you can ride one of the beautiful horses. Horse tours are divided for beginners inside the resort with an instructor, and outside the resort rides up to 6 hours for those who can ride a horse real good.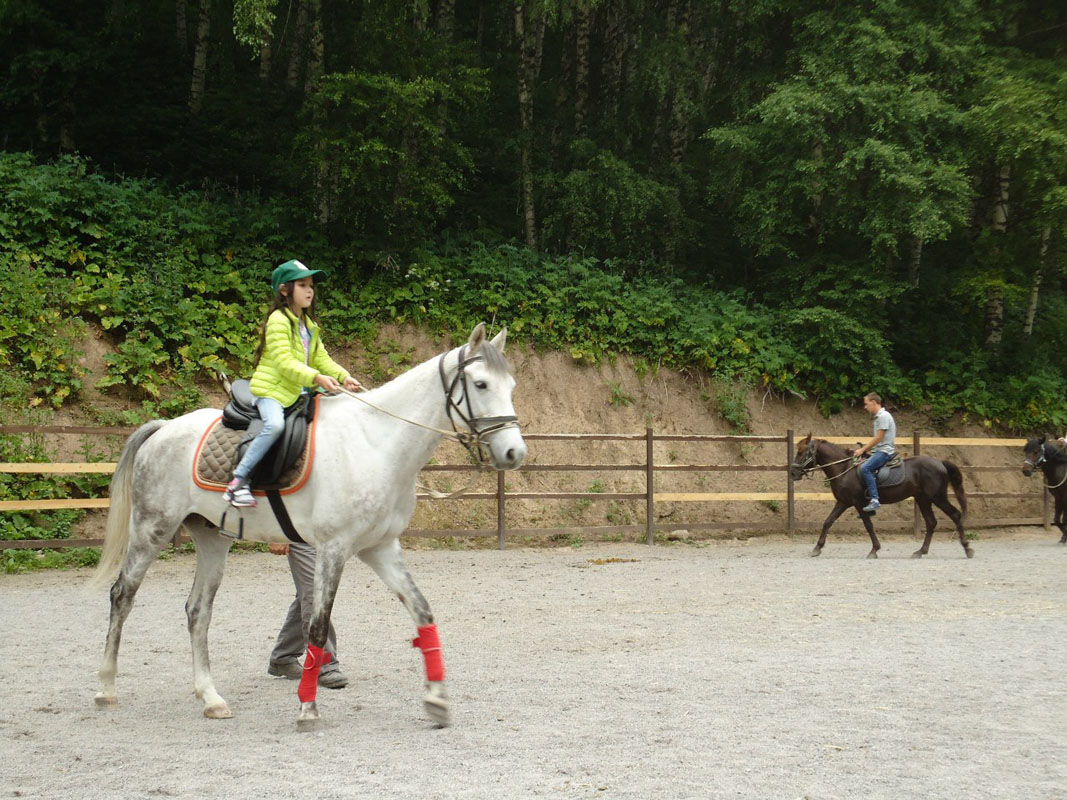 The most luxurious place to stay in Oi Qaragai is a two-story VIP-Chalet with a capacity of up to 15 people. This fully equipped luxury chalet has five bedrooms, a fireplace room, comfortable restrooms, large terrace with astonishing mountain view, a kitchen, separate balconies, dry Finnish sauna. It is an excellent choice for a large company, family circle or work team.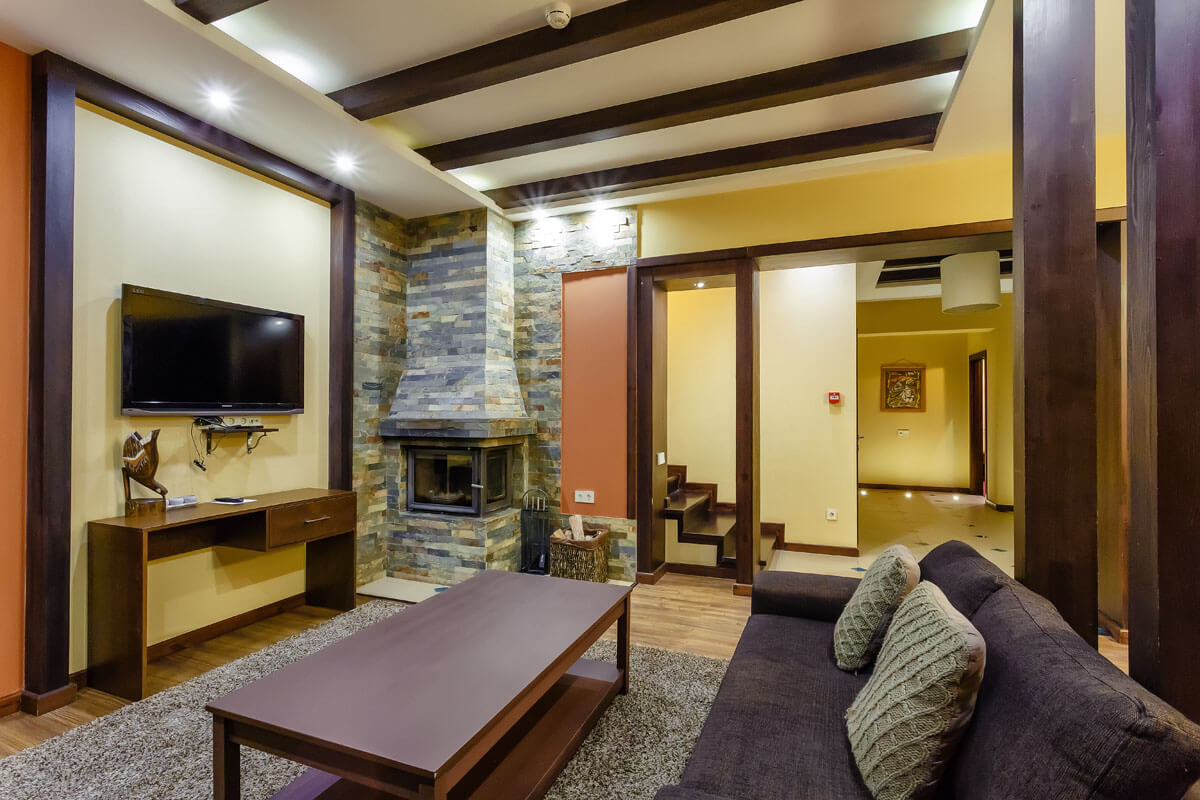 Talking of leisure activities, the resort can offer various attractions for both children and adults. Let's start with the trolley park "Spirit of the Tien Shan". It is the third largest trolley park in the world, with a total length of routes 2903 meters. Anyone who likes extreme can try to race above the canyon at an altitude of 126 meters above the ground at a speed of more than 100 km per hour. Sounds exciting, huh?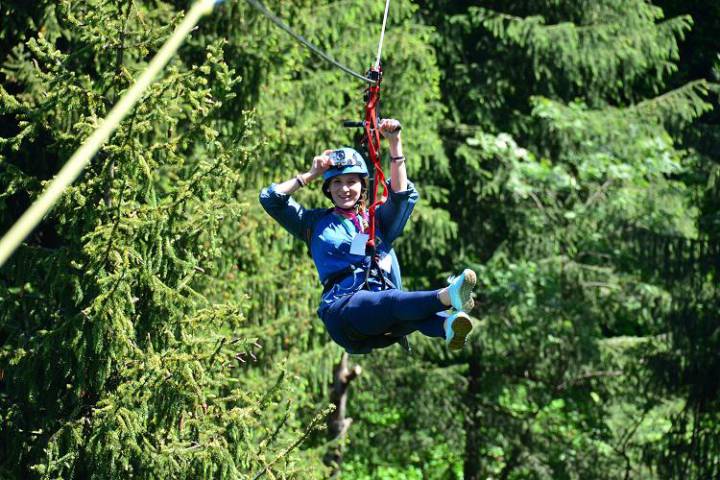 Also, adrenaline lovers should try Skalodrom, that offers climbing 16 routes on natural terrain. Do you want to become king of the mountain and surpass your friends? Then rock climbing will undoubtedly suit you.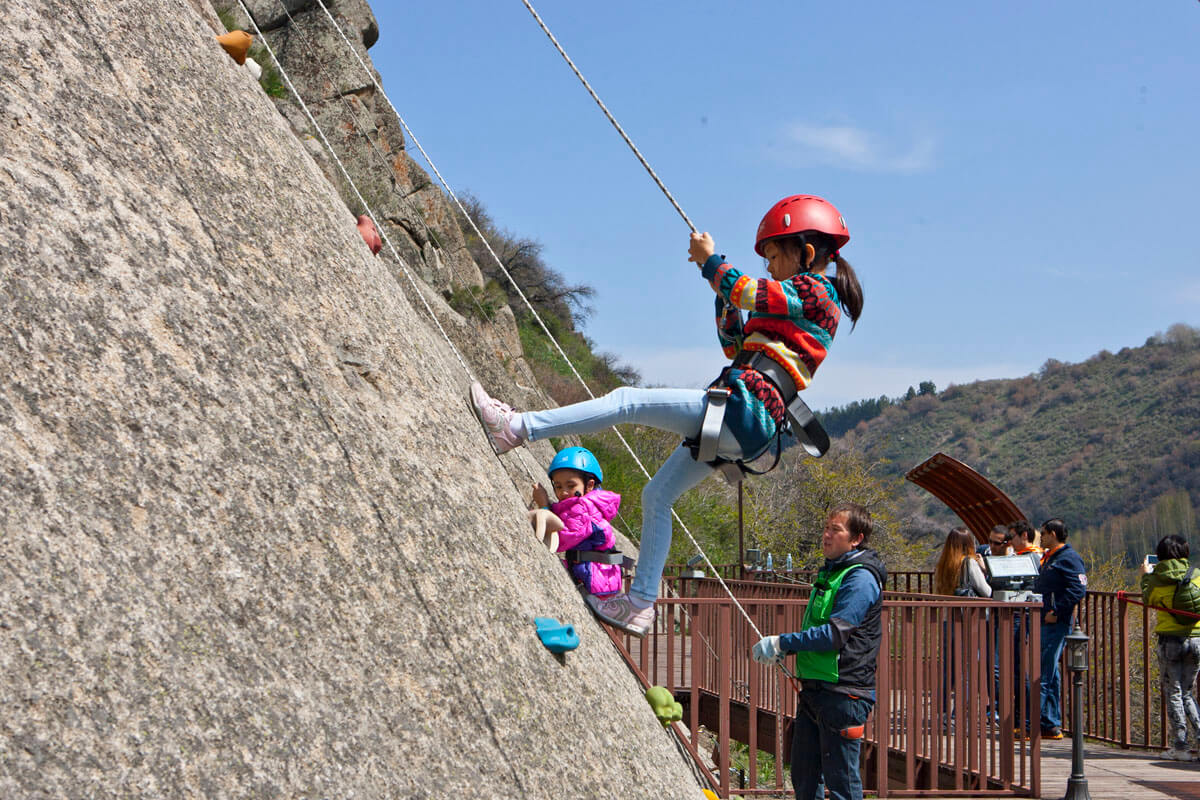 Rope "Adventure Park" - where you one can easily spend half a day is one of the main attractions of the resort, one of the most famous of this kind of parks in Central Asia. Routes from the simplest for children to "super extreme" for semi-professionals, aces and thrill seekers, where you will be facing numerous obstacles. The safety of this type of rest is under the strictest control: starting from safety equipment (straps, helmets) produced by European manufacturers, to daily inspections of all routes.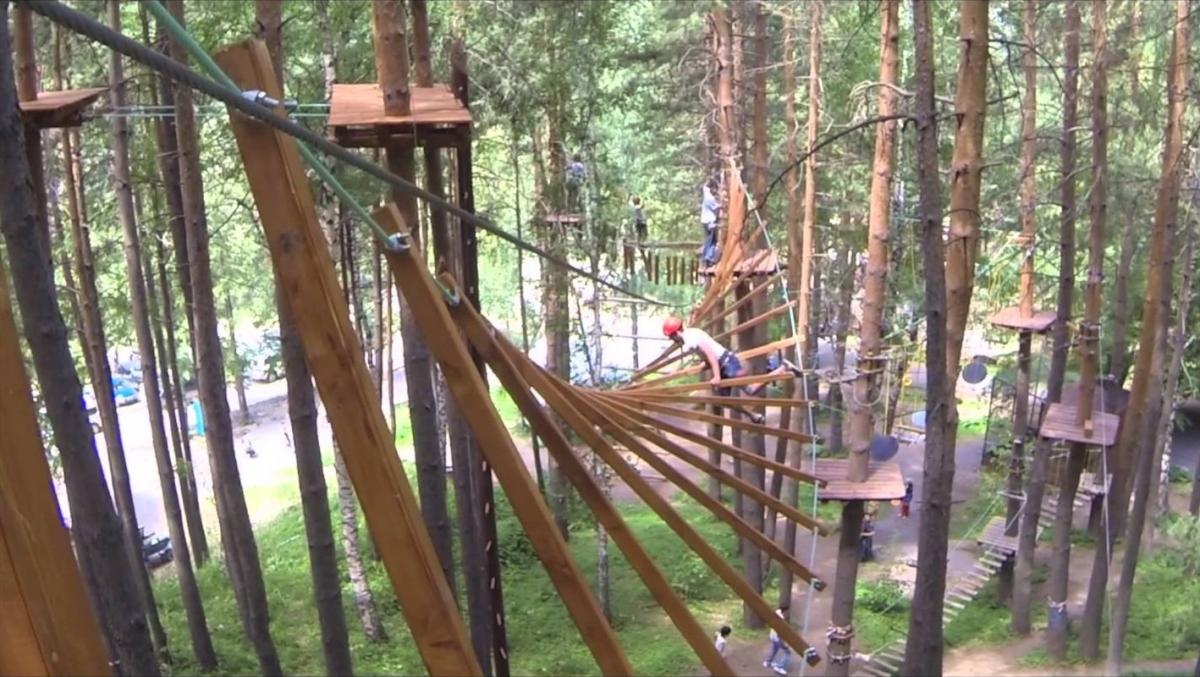 During winter time there is a ski slope, where children will be able to try skiing for the first time, free of charge ice arena and a sled-balloon track for a fun time.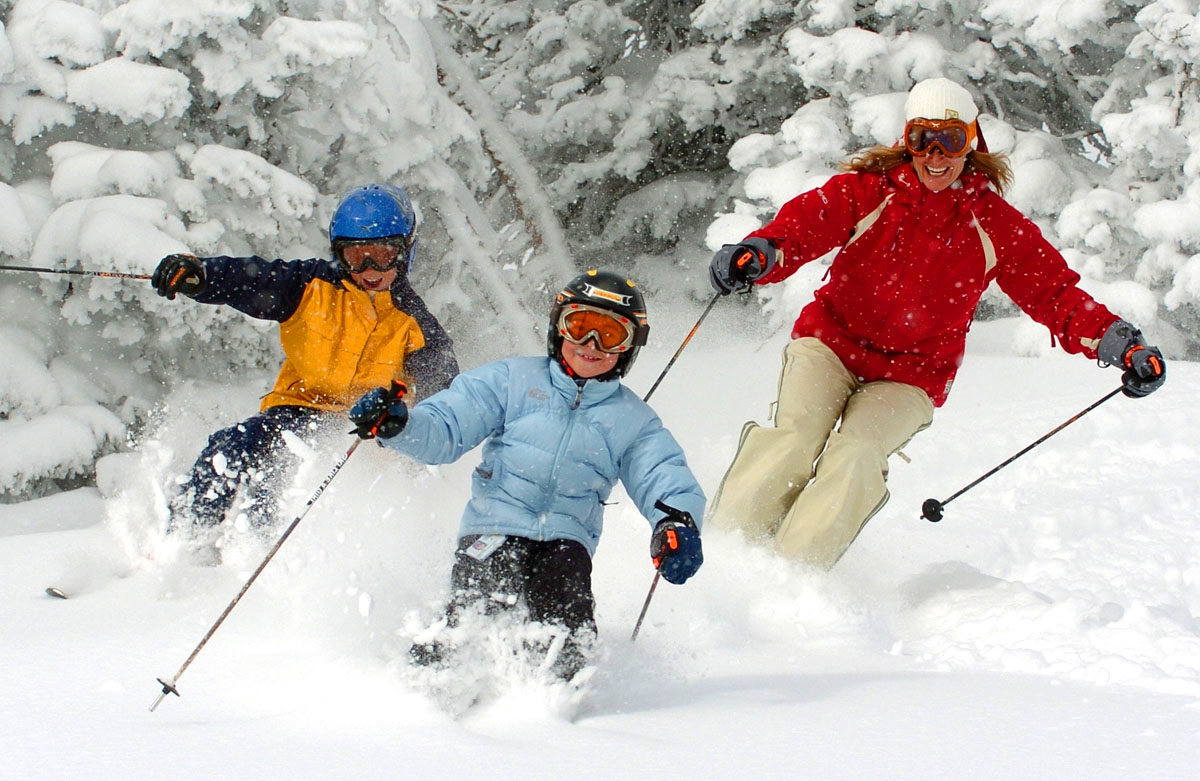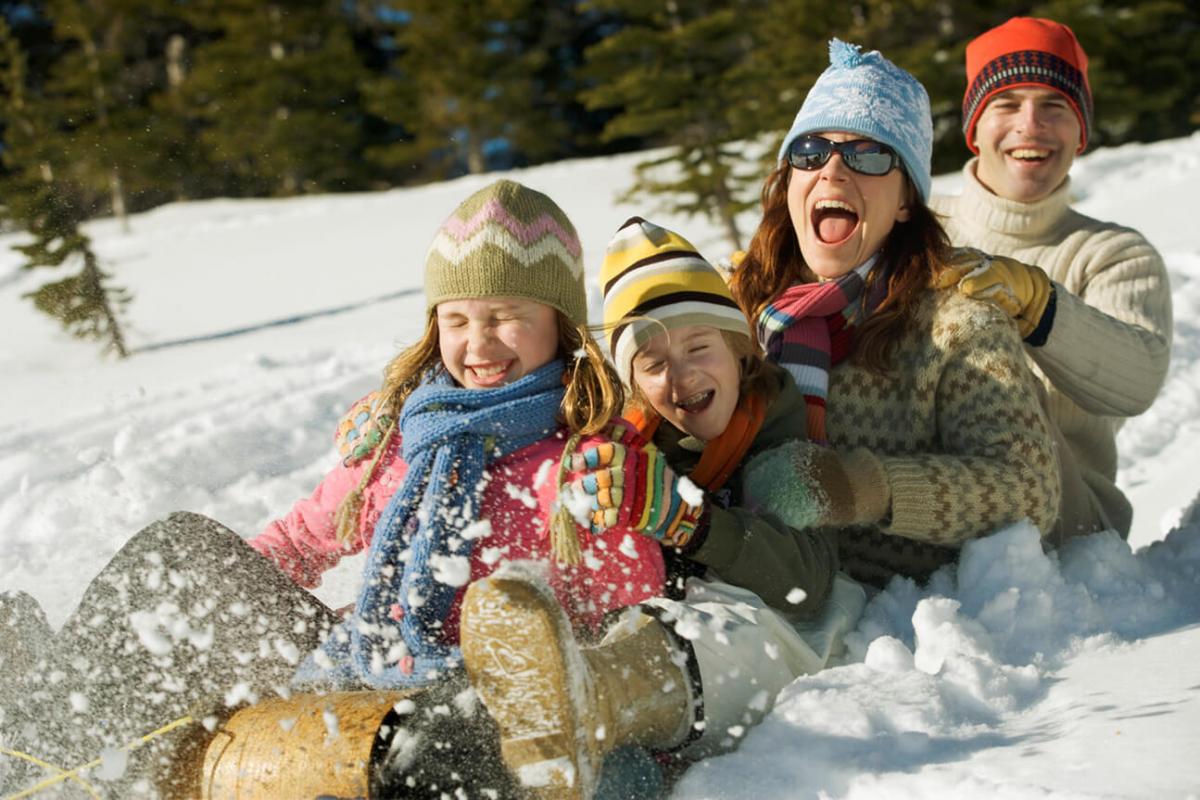 Oi Qaragai mountain resort can be called a paradise for gourmets. Restaurants are represented by traditional cuisine in Ak-Aul, where in addition to Kazakh cuisine, you can taste a new "ethnic menu of nomads", which is designed in accordance with the way of living of Kazakh nomads. The local steakhouse is another catering place that offers an abundance of meat dishes and steaks. This restaurant has recently received the Halal certificate and all the dishes here meet the standards of Halal, as well as the place, doesn't serve alcohol. The restaurant of Georgian cuisine Chashnagiri has all elements of rich Georgian food traditions. Chefs specially invited from Georgia are happy to introduce you to their national cuisine. More conservative guests are encouraged to visit the Family Cafe to enjoy home-cooked dishes.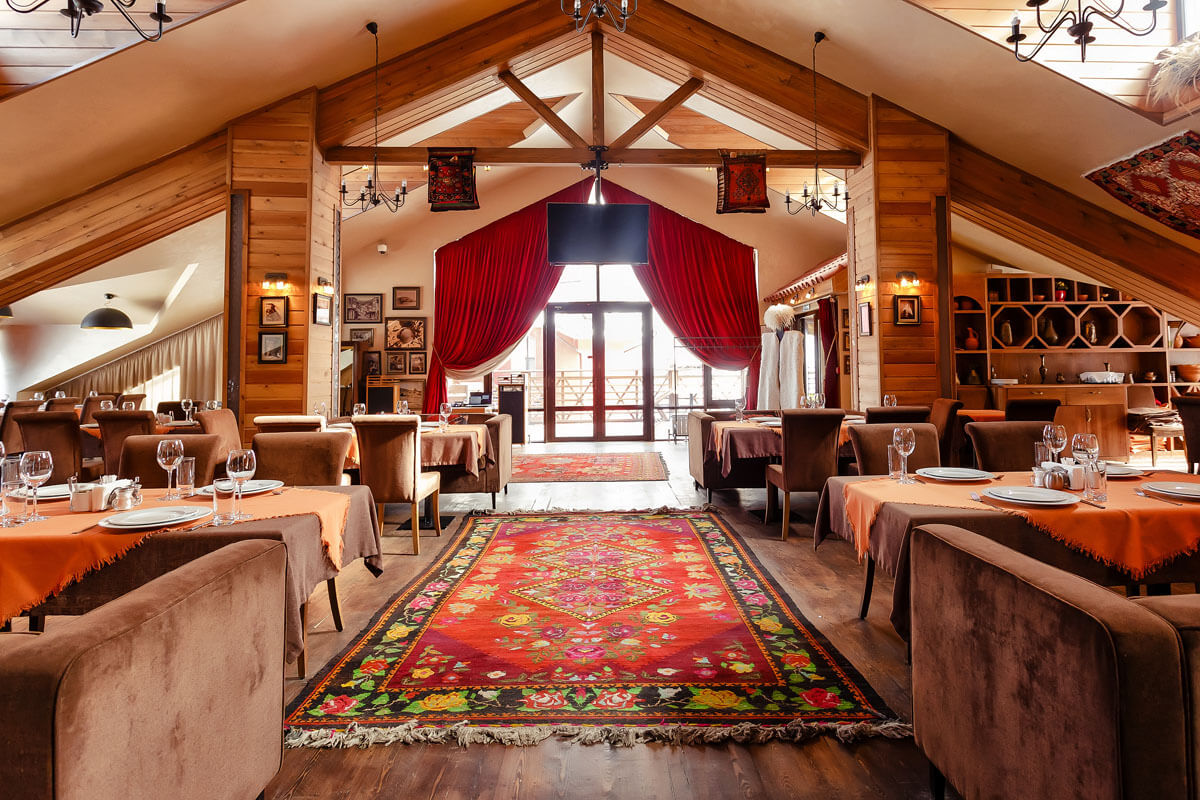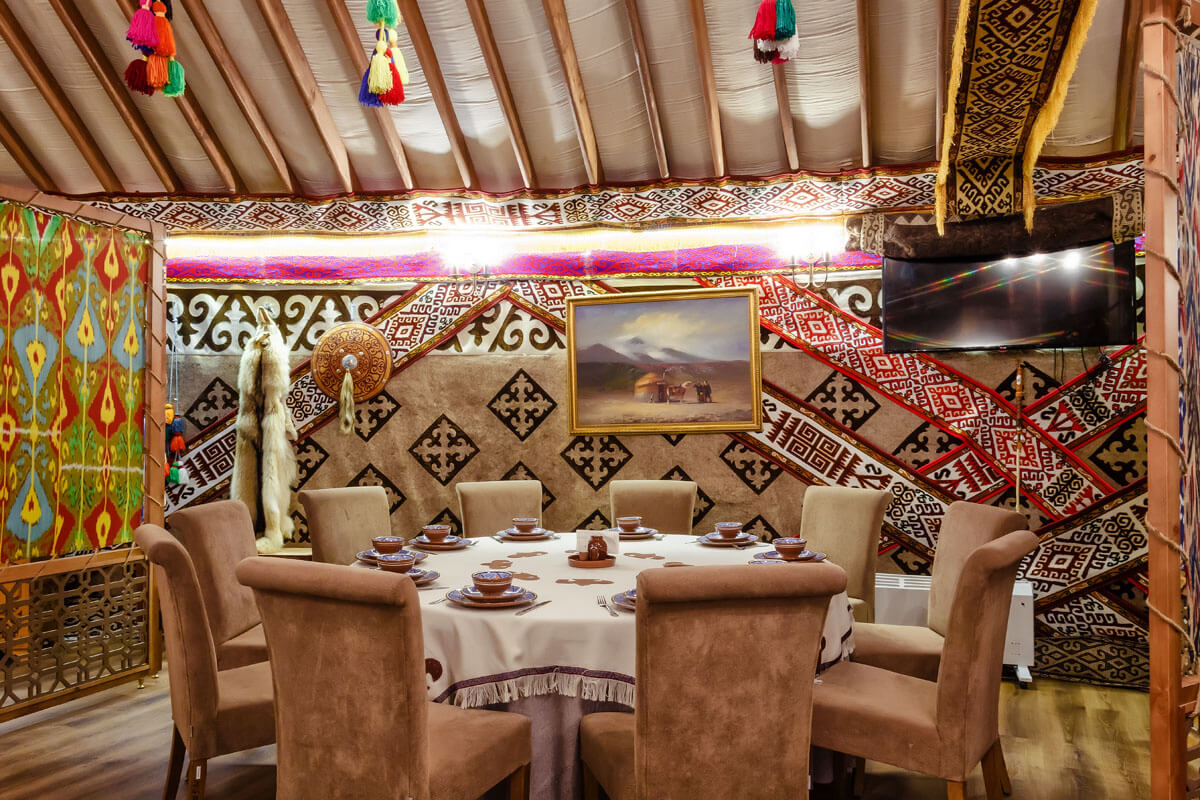 In conclusion, Oi Qaragai mountain resort is an upscale entertainment oasis in the picturesque mountains of Almaty region for people of all walks of life to rest, relax and to soak in what it truly means to be a nomadic Kazakh. The resort has established itself as a place of rest for the whole family, a company of friends, corporate recreation, all kinds of business meetings and conferences. Oi Qaragai mountain resort combines elements of ethnic, traditional Kazakh culture, elements of active leisure in combination with the highest level of service, security and developed infrastructure. And although we came here for less than a day, we desired to stay here for much more. That's the magic of this place. The magic of Oi Qaragai mountain resort.