200 kilometers to the east of Almaty lies the fantastic land of mysterious sand fossils sculptures, the Charyn Canyon. The Canyon lies approximately 120 away from the Chinese border to the East. The Canyon stretches for 154 kilometers and consists of gates, arches, minarets and citadels which have been forged over thousands of years. The Canyon used to be a river, flourishing with nature, flora, and fauna. Local residents gave this place two beautiful names - "frozen music" and "stone song" because Charyn is like a musical composition with the rocks seem to swing up and down like notes.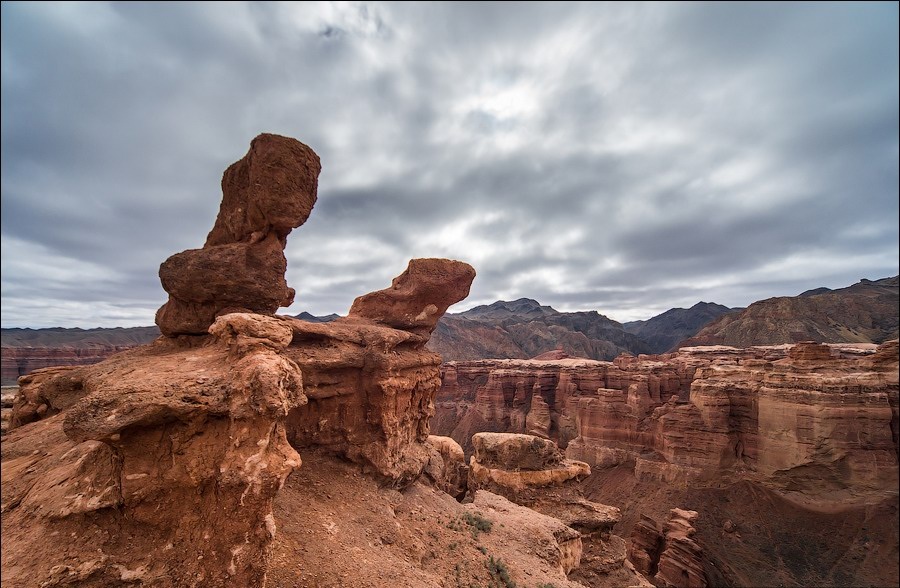 A road trip from Almaty usually takes approximately 2.5 to 3 hours. Upon arrival you will notice a large number of people and it is not surprising for the following reasons; fantastical landscapes of Charyn Canyon are enamoring by its sight and charming with its intriguing titles "Castles Valley", "Gorge of witches", "Stone bag" - are the most visited places in the canyon. Unusual forms of weathering and erosion of the relief are impressing of surprisingly and mysterious fairy world. 
Charyn has long been a popular tourist destination in Kazakhstan, not only for foreigners but also the locals. Walking along the Canyon ground on a path of what used to be a river bed 12 million years ago will take one back in time. Be in awe of the river walls towering 300 meters high and be submerged in the beauty and elegance of this ancient Canyon.
As the Sun sets behind the Canyon, get ready your bond fires and smores; gather around the warmth of the fire and enjoy fellowship with guitar songs and barbecue. A truly unforgettable and pleasant pastime awaits you.