Mangystau region is more than 16 million hectares in area and covers a significant part of the Ustyurt Plateau, the Southern part of the Caspian Depression, and the Buzachi Peninsula.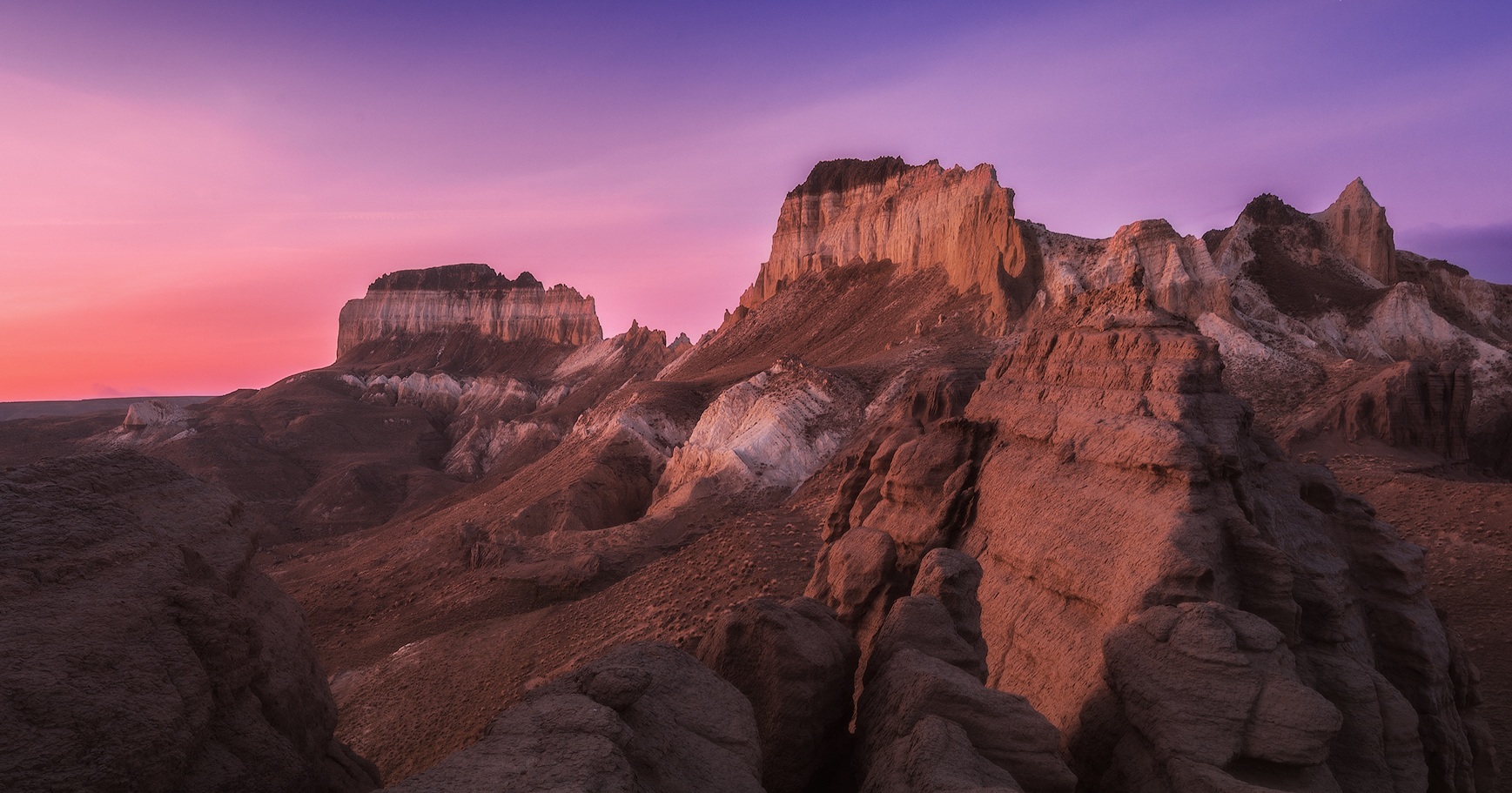 Airakty Valley of Castles. © Tsybin
The landscape of the region is exceptional and unique. For hundreds of millions of years this territory was the seabed of Proto-Caspian Sea. However, at times the sea receded for short periods influenced by changes deep in the Earth. During those periods, massive conflagrations of the Dinosaur age, footprints of saber-toothed cats and horse progenitors were embedded into the homogeneous multimeter marine sediments. The modern lunar landscape of Mangyshlak Peninsula and Ustyurt Plateau cliffs are the results of astonishing events taking place throughout the history of the Earth.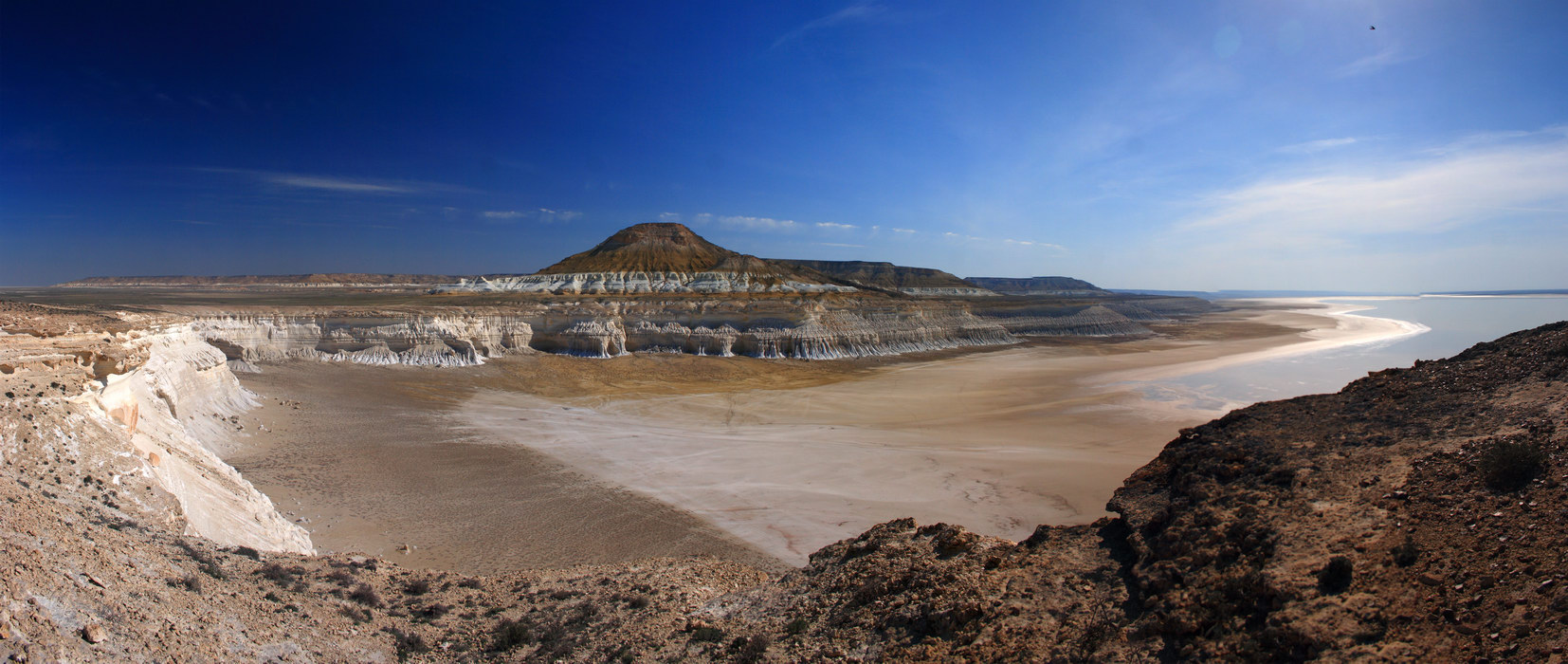 About 20 million years ago the Karatau Fold began to grow slowly raising the marine sediments and dissecting them with numerous cracks. About 8 million years ago the Turan Plate started slowly rising, emerging from the depths of the sea. Receding waters eroded the soft rocks along the fractures forming chalk cuestas, canyons, mountains, and depressions. Wind and rain flow completed the magnificent masterpieces. This is how the Northern and Southern Aktau scarps, legendary Sherkala Mountain, Akmyshtau Castles Valley, unique spherical concretion fields, vast salt wastelands Kenderli Sor, Tuzbair and Karashek, one of the deepest Asian depressions Karakiya, sandy massifs of Bostankum and Kyzylkum, ethereal peaks of Bozzhira and Yelshibek, beach lagoons and cliffed shores of the Caspian were created.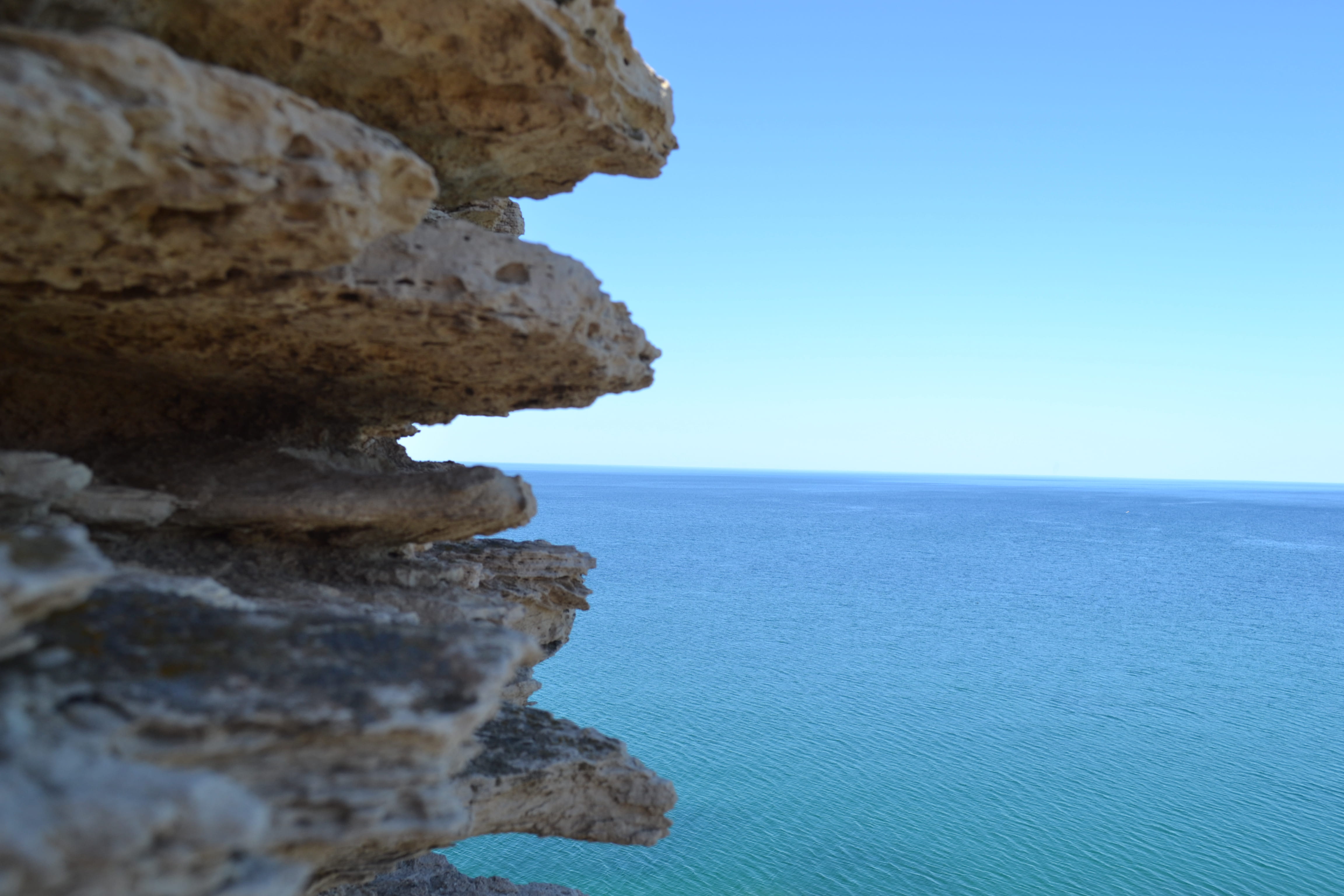 Cliffs and Caspian Sea. © Eco Mangystau
The climate of the region is characterized as sharp continental. Winter is severe with little snow. Spring is short, usually dry and windy. Summer is hot, cloudless and long-lasting. Autumn is primarily warm. The Caspian Sea, surrounding Mangyshlak on three sides, influences only the climate of a narrow coastal strip with a slight increase in humidity and temperature fall in summer and rise in the temperature in winter.
Precipitation is very light. There are no open sources of fresh water except in rare springs that give life to small green groves.
Mangyshlak and Ustyurt's wildlife is adapted to the harsh conditions of semi-desert. Local fauna is not plentiful. Ustyurt moufflon, gazelle, saiga, fox, wolf, hare, five species of cats and a lot of water snakes are the common inhabitants of these areas. Swans and pink flamingos fly along the coastline of the Caspian Sea.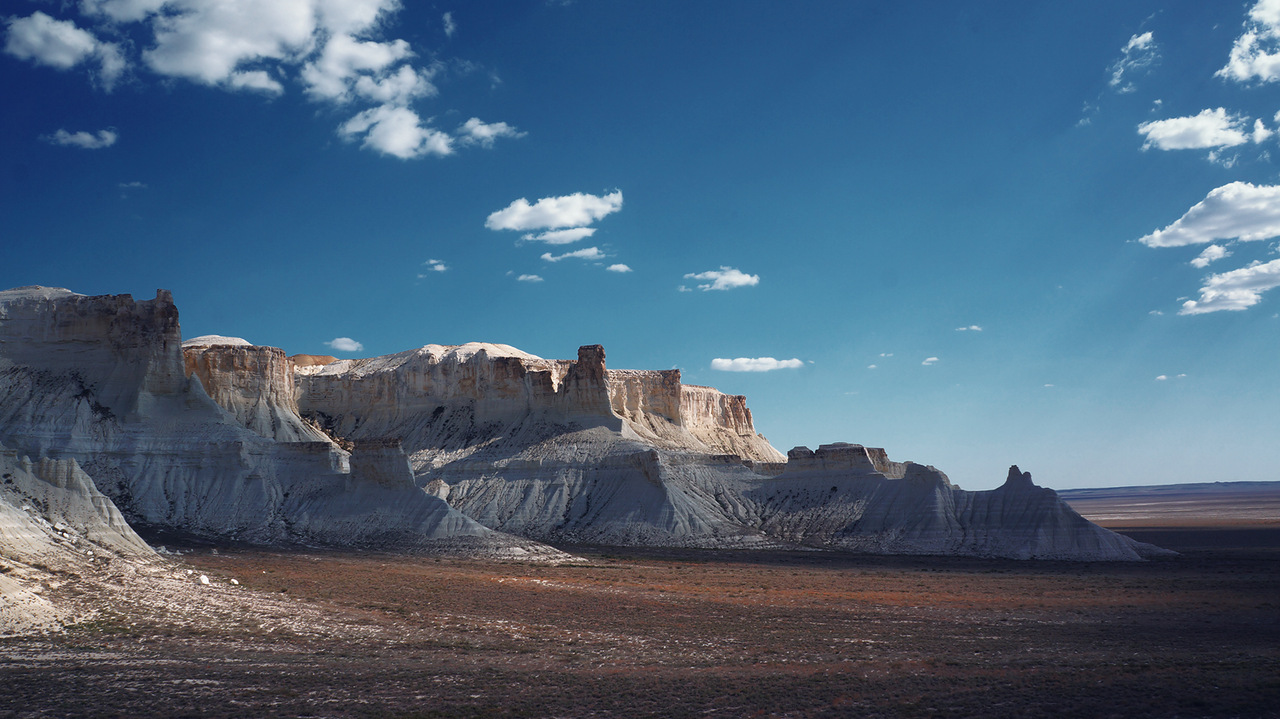 Magnificent Mangystau. © Mikhail Micromaster