Drive up the Dostyk street heading towards the mountains and you will notice after 10-minutes that the city landscape ends. As you pass under an arch, you enter "The State Natural Park" Medeu " area. The drive brings one a feeling of sheer pleasure, as the surrounding trees, rivers, bridges, mountains mesmerizes. Next you will approach the gondola station where your journey to the ski resort continues in a cable car. The cozy cabins slowly makes its ascend up to the mountains, giving one a breathtaking birds eye view of the mountains and Medeu Ice Skating Rink.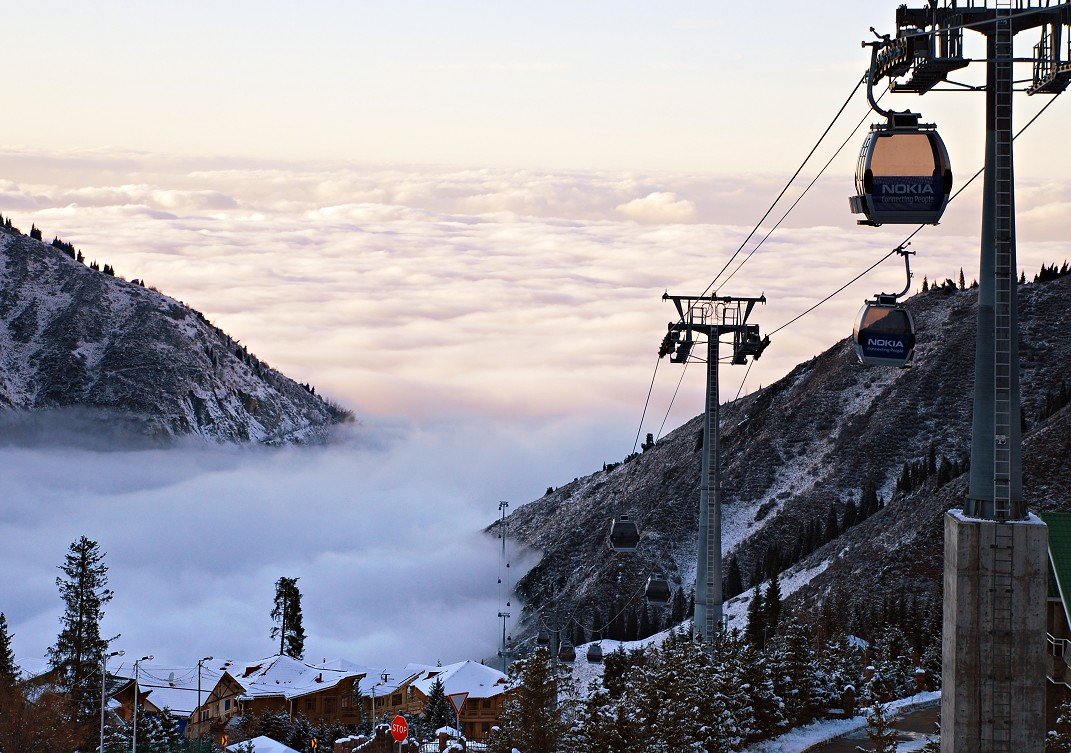 As the gondola ride progresses you will pass a dam in the Medeu gorge, and witness the majestic Trans-Ili Alatau mountains. The natural beauty of the mountains come into sight and puts it in perspective for one; snowy peaks piercing blue sky, uncountable number of straight and tall pines, wrapped in a layer of fresh snow. The trip ends. Frosty air and steam sucking at each exhale: we have arrived, we are in Shymbulak.
 
Shymbulak, located at an altitude of 2300 meters above sea level, has been on the must see activity of Almaty for a long time. It is an upscale ski resort with excellent infrastructure, the finest restaurants and cafes, brand-new cable cars, ski rental, a shop with everything necessary for skiing and a hotel. Standing in line in front of one of the cash desks, you are in anticipation of a great day you have ahead. Time passes at a different speed on Shymbulak; hours become minutes as one enjoyed themselves on the slopes; minutes become seconds. You can arrive in the morning, and not notice how quickly the evening has come. As cool winds breeze the slopes when evening arrives, few people are left on slopes and sun almost hidden behind mountains. With a hint of sadness, one rides the gondola back to the base where the day started. Standing at the top, looking around at all the beauty that surrounds, we rush down. On our way back to Almaty in warm car with a cup of hot chocolate, we will leave these beautiful mountains without a single doubt knowing that we will return again.